Buzz Cut
Buzz Cut
The buzz cut is one of the most popular men's short hairstyles that give a neat classic look to its owner practically in any environment. The cutting technique is what separates it from its close lookalike, the crew cut: the hair is cut shorter and the edging border runs above the nape.
The buzz cut is one of those hairstyles that have its origins in the military barracks. In the army it became a part of the standard combat set of soldiers mostly because of its convenience. Freshly enlisted recruits could easily get a haircut by themselves, or it could be done by any other person without the slightest experience. Especially, if they had to manage using manual hair clippers in the absence of electric ones.
The buzz cut hairstyle widespread began during the Second World War, when young men enrolled in the army got the cut before basic training. It was considered a part of the initiation ritual for becoming a warrior. Also, the army used the cut as means for "field sanitation". At this time, there was a severe problem with head lice, especially in areas where a large number of people were quartered in a small space such as army barracks. It was found that cutting the hair extremely short helped to cut down infestations.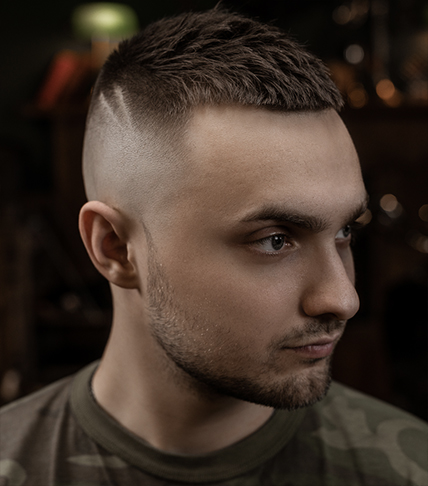 The buzz cut also worked as a way to standardize the look of all soldiers, giving them uniformity of appearance. From a psychological point of view, recruits were figuratively stripped of their individuality, and so it helped to strengthen the team spirit. Due to the fact that all troops looked the same, it would seem that soldiers, who fell in battle, came back to life, and this would demoralize the enemy. The haircut was quickly adopted in all parts of the United States armed forces.
Many of the men, who served in the army, got used to their haircut and decided to continue wearing it, when they returned to civilian life after the war. The buzz cut continued to grow in popularity during the 1950s, especially among the American preppy students of the Ivy League universities, before long hair became more popular with the break out of the rock and roll wave.
Registration of the User on the Resource and its further use means full and unconditional acceptance of the user agreement