Crew Cut
Crew Cut
The crew cut is a relatively short hairstyle in which the hair on the back and sides of the head is clipped, but not as short as in the buzz cut. A characteristic feature of this particular hairstyle is a smooth gradual transition from long hair at the front of the hairline to the shortest at the back of the crown.
In 1775, before the founding of the United States, when George Washington created the Continental Army, he decided that all recruits should wear short hair. The specific manner in which the soldiers of that time cut their hair is considered to be the ancestor to the crew cut of the modern day. Its contemporary look, which we can observe today, the hairstyle acquired with the help of the Yale University rowing team in the late XIX century.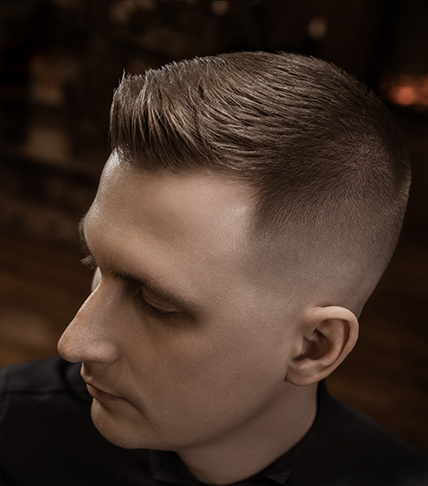 Later this haircut was adopted by the teams from Harvard and Princeton. The haircut was popular among rowers because the crew faces away from the direction the boat is traveling and has both hands on the oars. Longer hair would blow into the face and an athlete couldn't take his hands off the oars to move it away.
It is also believed that the rowers at Yale wanted to be distinguished from the university football team. Players sported long hair in order to protect their heads from injury, as the helmets of that time were simple leather coverings offering little to no protection. This led to the emergence of a long-haired trend, not altogether welcome. Footballers were often subjects of caricatures in the press and were called "mop heads". In a short time, the football team ended up adopting the crew cut, almost concurrently, with the appearance of stronger helmets.