Quiff
Quiff
The quiff is a hairstyle that combines the 1950s pompadour hairstyle, the flattop, and sometimes a mohawk. It can be easily adapted to suit individual preferences, and worn with a parting, and without it, with a forelock or without. What makes the style stand out is a small overhang of hair up front. The natural length quiff is neatly laid on its side or back of the head. The hairstyle was a staple in the British "Teddy Boy" movement in the 1950s.
Though hair pomade has existed for centuries, it was originally made from animal fats. In 1925 the first petrolatum based pomades began to appear on an industrial scale along with cheap oils. Soon, both women and men have started to create new adventurous styles with this versatile pomade. In this post-war decade people begin to develop a rebellious spirit of resistance – women cut their hair short and men, on the contrary, start growing it. People search for decadent, fun and cheerful looks after the traumatic war.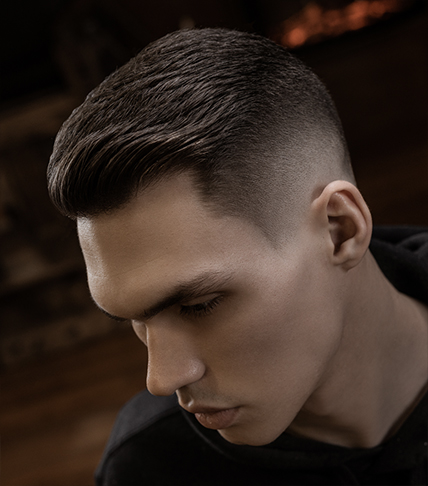 In 1928, the British company County Chemicals in Birmingham produces «Brylcreem». This hair styling solution was originally used only in barbershops, but a successful ad campaign prompted men to home grooming. The time has come when the rebellious-minded young people choose to wear a hairstyle as a way of self-expression and protest. Why not adopt the most extravagant style in history?
The quiff becomes a modern male version of the pompadour. The hairstyle becomes very popular in the late 1950s with the rise of rock and roll and rebellious adolescence. Such eminent figures of the era as Elvis Presley, James Dean, Cliff Richard, Eddie Cochran and Little Richard helped secure the quiff as the cornerstone of fashion rebellion. British Teddy Boys found this haircut to their liking and how it matched the Edwardian style that they pursued: tight pants, long jackets and extravagant shirts.
In the 1960s, The Beatles put out the hot fashion of the quiff and launched a wave of long-haired freedom from various hair styling products. Its popularity in Europe returned in the early 1980s and is in demand till today.