Top-Knot: traditions in hairdressing
Top-Knot is a fashionable men's hairstyle, a variant of the Men Bang, the main difference from which is considered to be a short-cropped or shaved temporal region. Today, the haircut has become popular again, as it is versatile and goes well with any image.
The history of the appearance of Top-Knot hairstyles
Top-Knot has its origins in ancient Japan: it was the samurai who began to wear this hairstyle because of its practicality and aesthetics. The pagan Indians also gathered their hair in a knot, since their religion did not allow cutting the hair, as well as the formidable and brutal Vikings due to the lack of time for a haircut. Warriors made top knot when they were going to hunt, fight or do household work.
Today, the popularity of Top-Knot haircuts is due to the same versatility and appeal. The hairstyle involves shaving the temples, which gives the image additional masculinity, brutality and charisma. The length of the hair in this hairstyle should not be less than 15 cm, as this is the minimum length at which you can make a neat and graceful bun. Otherwise, you will not get a pretty knot, but just a pitiful semblance of a tail.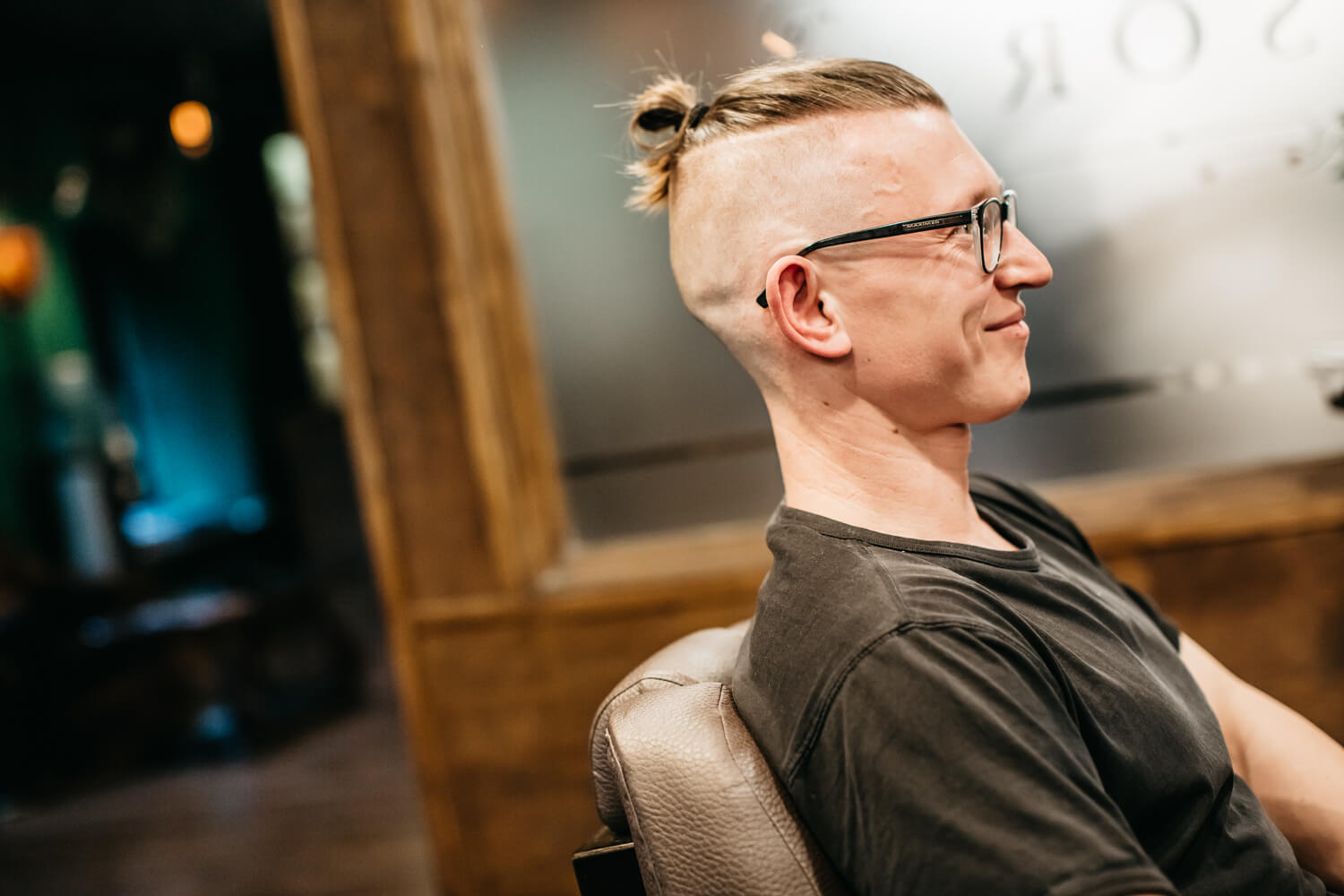 Top-Knot: characteristic features
A top-Knot is a bun of long hair combined with a short, cropped or completely shaved temporal region. Before going to the barber, be prepared for the following nuances:

The bundle should be longer than 15 cm.

Feeling cool in cold seasons. The frost will be felt especially sharply by shaved temples.

A sharp transition from a shortly cropped temporal region to the main hairstyle. You may prefer a Top-Knot / Fade combination that uses a fade technique.

Wide temporal will look unkempt if you don't have a beard.

You may encounter problems such as permanent loss of rubber bands.
Men's Top-Knot combined with a neat beard and mustache will create an image of a brutal, extravagant and stylish macho. With this hairstyle, you show your individuality and sense of style, as well as you are guaranteed attention from the opposite sex and society in general.
Top-Knot haircuts
If you want to express your individuality in an original way, pay attention to the top knot hairstyle. This haircut can be safely called an expanse for experiments with the image and images. Top-Knot is characterized by conciseness, masculinity, elegance and a bit of hooliganism. The most common hairstyle modifications include:
Top-Knot with a sharp transition is a classic. There is no smoothness here: the clean-shaven temple immediately passes into the main strand on the parietal region;

Top-Knot with a soft transition. Such a bunch can also be called smoky, since the hair does not break off abruptly, but smoothly passes into the place of the main curls;

Top-Knot without shaving and trimming the temples. In this case, individual strands are collected in a bundle, and the rest remain loose;
Who is recommended to choose a Top-Knot haircut
First, the haircut of a man who likes bold decisions and experiments, as well as increased attention to his person, will be highly appreciated. Thanks to this hairstyle, you can get a non-standard and original image, while maintaining masculinity. By the way, Top-Knot is versatile, as it will look great both with a classic business suit and with a casual look like a plaid shirt and jeans. The hairstyle has even become a kind of stereotypical symbolism of the hipster subculture.
A haircut is chosen mainly by representatives of the stronger sex with neat, well-groomed long curls. Top knot is best combined with dark straight strands. Curly hair also results in an attractive and neat look: in this case, the bun should be collected below the crown.
Undoubtedly, Top-Knot looks best on men with regular facial features. Face shapes such as a circle, an oval and a square are considered ideal options. The hairstyle allows you to visually lengthen the profile and focus on the cheekbones. You can see a photo of a Top-Knot haircut on the Frisor website.
Top-Knot: who better to give up hairstyles
The bundle from behind is rather poorly combined with the elongated shape of the face due to even greater visual lengthening. It is also worth giving up haircuts for young people with an aesthetic physique and a thin face. If you do decide to make a Top-Knot, it is better to complement the image with a beard and mustache to balance the proportions.
It is not recommended doing this hairstyle for owners of thin and sparse hair, as it will only emphasize this drawback. It is worth abandoning the beam for people with too expressive and prominent facial features, since the hair pulled back and shaved off temporal only focus on them.
Features of Top-Knot
The haircut looks amazing only in the first few days after visiting the barbershop: the temporal is either clean-shaven or short-cut. Further regrowth is inevitable, and as a result, a neat hairstyle becomes untidy. There are two ways out of this situation:
Visit your master more often for regular correction of the temporal;

Purchase an electric clipper and cut your temporal at home.
To keep your hair looking great, choose your cosmetics carefully or consult your barber.
FAQ
What should be the minimum length of strands for a Top-Knot bun?
Hair length should be at least 15 cm. Then the hairstyle will look stylish and neat.
How often do you need to adjust the Top-Knot haircut
The temporal should be shaved as the hair grows back. You can do this with a special typewriter or make an appointment with your barber.
Who is Top-Knot suitable for?
Top-Knot is ideal for men with regular facial features and a circle, oval and square shape.